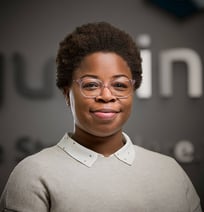 Language is both deeply personal and what brings us together. This was the overarching theme of the conversation when we sat down with LinguaLinx Project Manager, Whitney Shavers, PMP.
Whitney has managed complex and technical language projects at LinguaLinx for the last four and a half years. While she started her career with LinguaLinx in Troy, New York, she moved back home to California just over two years ago to be closer to family. A portion of the employees at LinguaLinx worked remotely even prior to COVID. This made the necessary transition to work from home during the height of the pandemic a seamless transition for LinguaLinx. After all, LinguaLinx specializes in bridging communities and cultures all over the world as an in-demand Language Service Provider.
Project Management Expertise
Whitney works across three teams and is responsible for managing multiple highly technical projects at once. Her days are fast-paced and assigned projects span a variety of industries and target languages. Whitney works with a lot of e-learning projects which often have many moving parts including voiceover work, text translations, and subtitling. Whitney's adeptness in both organization and communication allows her to navigate all the moving pieces and ensure the internal team, linguists, and client are aligned so that the client receives the packaged deliverables on time and within scope.

Whitney earned her Project Management Professional (PMP) certification in 2021 from the Project Management Institute (PMI) while attending the College of Continuing Education at Sacramento State. Her coursework expanded her perspective on the role of a project manager. Prior to her PMI training, she had a linear view of her role as a project manager; projects began with an order and concluded when the project was successfully delivered to the client.

Whitney explained that her PMI training taught her that project management extends beyond a single project. She learned that building and maintaining relationships with both the linguists and her colleagues is integral to her success as a project manager. This ongoing relationship management piece is what allows Whitney to identify and tap the right linguist for any project, especially a rush project with a one-day turnaround. Her training allows for an understanding of which linguists and team members she can lean on for such work.

Whitney understands that effective project management is essential to client success. As she expertly phrased it, "All of these entities and components converge…and I am the inflection point." She knows it's critical to keep the project goal top of mind, at all times.
Where Do Projects Go Off Track?
So, where does a project go off track? Whitney discussed how the innate subjectivity of language can delay project delivery:
"Language is something that is deeply personal to every human being. And we all have our own idea of what that is…The best way a client can help me ensure that we get to the desired deliverable is to go over as many definitions as we can before we start…You're sending a document to a person and they're using their experience, their life experience to change your words into something else. And sometimes when it's changed, it may not be what the original speaker intended."
Context becomes critical. Whitney is responsible for being the connection between all stakeholders. She explained how the more context she is provided before the project kicks off, the better. It is then her job to identify the right linguist and convey that information to them. Any time a client can convey what they envision the end result to look like, it provides helpful information. Is the client looking for a literal translation? Who is the target audience for the translation? Are there technical industry terms used or company acronyms?

Whitney concludes, "Language is subjective. Everyone has to agree on key definitions in order to get to the finish line."
Trends in the Language Services Industry
Since Whitney is close to such a variety of language services projects, we were interested to know what her biggest takeaway is about the current state of the language services industry and whether she's noticed any trends.

Whitney shared that since many companies have had a remote workforce over the past year, she's noticed that several clients are requesting more e-learning projects and that more of these projects include subtitling and voiceover work.
"Things are becoming more accessible. Before, there was this lack of perception for the unhearing and unsighted. We really opened up the space with a remote workforce that improves accessibility for all people. I've seen a few of our clients retroactively go back and do these things for their own projects. We've even done text to speech. You can fill in online forms and mouse over the fields and the system reads the text aloud."
Removing Barriers to Information
Beyond discussing industry trends, it's clear that Whitney finds purpose in her work. When asked what she enjoys most about her job, she touched on the variety of work and the excitement of taking on new challenges. But, she always comes back to the impact.

Whitney explained that her team translated pandemic unemployment assistance paperwork—shortening the turnaround timeline meant that people received these crucial benefits on time. Whitney also shared that LinguaLinx works with school districts to translate important parent communication, forms, and other documentation. She further explained the significance of these translations; it improves language access for students and families and enables parents to be fully informed as to how their children are doing in school.
"I'm very happy that in this language space we're breaching the topic of inclusivity and that our work facilitates the push that all people should be able to view and interpret data. There shouldn't be barriers to information; it should be readily available to anyone that wants to access it. It makes me very proud to see our clients supporting that push."
We recognize and thank Whitney for her continued commitment to her clients' success.

A fun fact about Whitney? Her passion is gaming. She received her Bachelor of Science (BS) in Game and Interactive Media Design and continues to create games in her free time. Whitney's not just a gaming expert, she recently built herself a new keyboard.
---