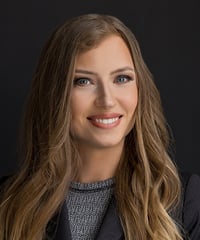 Ina Bednarska has managed complex and technical language projects at LinguaLinx for almost four years. To say Ina is a language expert would be an understatement. Ina is a polyglot; she can speak six languages.
Ina was born in Ukraine; she grew up in Poland and received her Master of Arts degree in Applied Linguistics from the University of Warsaw in 2013. Following graduation, she worked first as an academic teacher and then for a French company until she moved to Nashville, Tennessee in 2017. The project management role at LinguaLinx was the first job Ina applied to when she moved to the United States. She read the position description online and described it as a "perfect match."

We recently sat down with Ina to ask her more about where her love of language derived from, as well as how her extensive experience in linguistics helps inform her role as a Project Manager.
A Passion for Language
Ina described having a passion for language since she was just two or three years old. She was born into a bilingual household and began learning English in Kindergarten. She recollected how she would correct her peers' grammar as a young child. Her grandmother is also a linguist, so it runs in the family. Ina became fascinated with language and literature, so even though she was quite young, she knew she would become a teacher, translator, or maybe an interpreter. Ina eventually came to realize that studying linguistics offered her all of those opportunities.

During her studies at University, Ina worked as a translator for a translation bureau in Poland and then as an interpreter for a Polish theater. She interpreted for actors and theater troupes from other Slavic countries into Polish. Ina was the liaison between the actors and stage crew; she ensured stage instructions were communicated to the crew and that all the actors' needs were met.

Even after moving to Nashville, Ina works to remain fluent; she joined the Alliance Francaise de Nashville to continue practicing her French and is currently relearning German since members of her family have recently moved there. Ina's academic background and experience as a translator and interpreter have certainly helped inform her role as a project manager.
Experience that Translates
As a Project Manager, Ina's duties include verifying the scope of a project, preparing files for translation, and coordinating with other teams if a project requires language-independent services (desktop publishing/transcription/voiceover/Braille, 508 compliance, etc.) She also manages communication amongst the team for ongoing projects and facilitates quality assurance within the CAT (computer-assisted translation) tool after translation services are completed.

Project Managers often use their experience to anticipate their client's needs. Ina concluded, "Efficient project managers are guarantors of client satisfaction."

Ina described that her familiarity with linguistics certainly helped her get acclimated to the role more quickly, "These experiences made my beginnings as a project manager easier because I was a polyglot familiar with CAT tools, aware of some technicalities within the translation and localization industry." She continued,
"I believe that my familiarity with semantics, comparative linguistics, and extensive understanding of the grammar of several languages (from three different groups) largely contributes to my quality assurance skills to this day. I think it's also easier for me to sympathize with linguists and set more realistic expectations when launching a project or understand the motivation behind a given translator's decision."
Ina's projects span from straightforward translation to larger e-learning projects. Additional services can include voice-over work, transcription, and desktop publishing. It's this variety that continues to make the job exciting for Ina.
"I love the fact that not a single day is exactly like any other. You might help a client relive their best memories of loved ones by rendering someone's old recipe book into English, assist in someone's legal battle, see some exciting news from your favorite travel destination or theme park, help someone read an inscription on an antique carpet, or even learn the newest updates from the scientific community as those get rendered into any of the 200+ languages we handle. We encounter almost any spoken or written text you can think of."
The Phenomenon of Untranslatability
The true variety of work LinguaLinx assists with was exemplified when Ina described her favorite project. Ina managed a project that entailed rendering a comic book from English into German (which happens to be one of the six languages she speaks.) Beyond the creative subject matter, Ina particularly enjoyed this project because she witnessed first-hand the linguist dealing with the phenomenon of untranslatability.

There were cultural references and puns incorporated into the comic book's source text. The linguist worked tirelessly to try to evoke the same reaction that the comic evoked in the source audience into the target language. Coincidentally, Ina's entire Master's thesis was devoted to the subject of cultural untranslatability, "I was exceptionally passionate about helping the linguist find the best possible solutions to ensure that the target audience would enjoy this piece similarly to how the source one did."

When cultural references and wordplay are involved, there is not always an equivalent. There are workarounds and sometimes puns may be substituted. This phenomenon happens most often when dealing with creative content.
How to Prepare for a Translation Project
There are a few common roadblocks that can delay a project's turnaround time. Delays can occur when the source file is illegible or inaudible to the linguist. If it's an audio file with multiple speakers that are talking over one another it can be difficult to impossible to transcribe.

Miscommunication or unclear scope can also cause project delays. For example, if a client expects something to be left in English and it was translated, or on the contrary, they expected a translation, but the text was left as-is since part of the source document was not editable. This is why context becomes critical; it's also always best to have a file go through the quoting process.

We asked Ina for her insight on how a prospective client could best prepare for a large translation project. She offered the following tips:
Keep your target audience in mind when picking the appropriate dialect.
Make sure to allow ample lead time for large projects.
For Document Translation: If pagination is important, keep in mind that most languages expand when translated. Popular target languages will expand (even 1.5 times!) compared to English.
Make sure your source file is editable. If you are scanning a document, make sure the scan is high-quality. Poor document quality can lead to project delays.
Provide as much context and instruction as possible. If your source file includes images that contain text, provide instruction as to whether you expect the text within the images to be translated and make sure these translations are included within the scope of the project.
Trends in the Language Services Industry
We asked Ina if she's noticed any recent trends through her work with LinguaLinx. She noted coming across more translation requests in Mandarin and higher demand in Asian languages overall. This trend solidified her choice in the next language she'd like to learn.
"…I picked Japanese because of my fascination with the culture and a dream to spend at least one year in Japan at some point in my life. I've also seen an increase in the number of requests for translation into exotic languages/dialects like Palauan, Ojibwa, Pohnpeian, Akatek…I enjoy seeing our company help build bridges between different cultures."
Following our conversation, Ina sent over additional context on some of her answers and signed off with, "Thank you for the chance to talk about my job that is also my passion".

It was evident from speaking with Ina that her love of language is ingrained in every facet of her life. We recognize and thank Ina for her hard work and continued commitment to her clients' success.

A fun fact about Ina? ​​She's passionate about traveling and has visited 29 countries so far!
"Hope for Japan to be #30! My favorite trip so far was a three-week vacation in Bali, Indonesia. I was awed by the wonders of local nature, thrilled to experience white water rafting for the first time, and enjoyed touring all the astonishing temples and learning more about their unique religion, a form of Hinduism called Agama Hindu Dharma. One of the most interesting facts I recall is that the Balinese believe in reincarnation among one's kin."


---