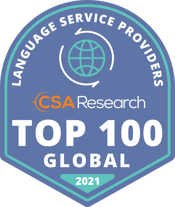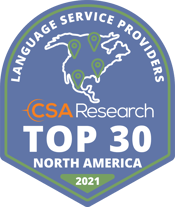 Based on 2020 verified revenues, independent market research firm CSA Research named LinguaLinx as one of the providers leading the delivery of language services globally, ranking it as the 57th largest LSP in the world and 17th largest in North America.
LinguaLinx was also recognized among the Top 20 Fastest-Growing LSPs and Tech Providers (#9) and ranked among the Top 20 Fastest Sustained Growth of LSPs and Tech Providers in the World (#12).
These annual rankings are the result of the language industry's most comprehensive, large-scale survey of the language services and translation technology market. The language services and technology industry includes more than 27,000 players worldwide, ranging from boutique local agencies to large global companies. This diverse group of language service providers (LSPs) and translation technology vendors adds up to a multi-billion-dollar global industry.
What Makes LinguaLinx Different?
The CSA ranking results are a testament to the standard of excellence customers have come to expect from LinguaLinx. When asked, "What makes LinguaLinx different from other Language Service Providers?" Jonathan Smith, Chief Operations Officer responded,
"We have the same capabilities that the large organizations have, but we retain a 'boutique' experience which our clients really appreciate and enjoy. We constantly ask for feedback from our clients during each step of the process such as quoting, discovery, and everything in between. This allows us to constantly refine the way we do things so we can continously improve for our customers."
Expanding on Smith's response, LinguaLinx specializes in creating lasting partnerships. It's our unique partnerships with linguists around the world that enables us to provide translation services in over 200 languages with subject-matter expertise in industries like healthcare, education, and legal where accurate translations are crucial.

LinguaLinx Project Managers are critical to ensuring successful partnerships with our clients. They act as a liaison between our certified preferred linguists and our customers. The progress of all projects is closely monitored by the assigned project manager and every translation undergoes our rigorous TEP and QA processes before being finalized. Specifically, the Project Manager, editors, and proofreaders scrutinize a translation to ensure its accuracy with respect to the client's source document(s), cultural considerations, and applicable linguistic standards.
All of these facets of the process work together to ensure deliverables are met on time with the highest quality of translation.
Importance of Language Service Providers
LSPs and language technology developers support global experiences in other languages, delivering essential translation, interpreting, and localization outsourcing capabilities to organizations and individuals around the world.
"People worldwide prefer consuming information in their own language. Meeting this expectation fuels an indispensable multi-billion-dollar industry of language service and technology providers that keeps growing to support global digital transformation, help companies, and governments improve customer experience, and respond to continuing globalization," comments Dr. Donald A. DePalma, CSA Research's Chief Research Officer.
CSA Study Methodology
CSA Research uses structured and documented methodologies to ensure independent and reliable data-driven research for language service providers, technology vendors, global enterprises, and investors. The rankings of the largest suppliers are based on confirmed revenue from 2020. This is the 17th year CSA Research has studied the language services industry and the first year LinguaLinx has appeared in the rankings.
Included in CSA Research's global market study is the ranking of the largest 186 language services and translation technology providers, ranked globally as well as across eight regions.
Other Awards & Recognition
Earlier this year, LinguaLinx was named in Slator's list of the 2021 Top 10 Fastest-Growing Language Service Providers after experiencing over 85% growth in 2020. Slator also ranked LinguaLinx among the top language services providers in the world in their annual Language Service Provider Index, coming in at 68 out of hundreds of LSPs.
LinguaLinx specializes in translation, localization, and interpretation services across a number of industries. Our streamlined project management process ensures that our customers receive language services from a certified linguist with the subject-matter expertise necessary to provide accurate and culturally nuanced translation and interpretation services.
We'd love to talk to you about your next translation project. Click below to request a quote and we'll respond within 90 minutes or less.